Discover more from DrV's Newsletter, Notes, Essays, Articles, Videos, and Book Chapters
Short notes, book chapters, essays and videos related to health, nutrition, medicine, society and politics
Over 5,000 subscribers
What is the best medical insurance in the USA for nationwide + international coverage?
Maybe the best plan in the USA is international health insurance, in order to have nationwide coverage + international coverage
A paradox of living in the USA is that you can pay an internationally unprecedented $10,000 or more to for "full medical insurance coverage" and yet 1) still have to pay $5,000 or more as out-of-pocket deductible, 2) have no coverage for dental or vision, and 3) have zero coverage simply because you travel to a different state within the same country. Travel out of the country and need medical coverage?—you're pretty much on your own, paying out of pocket again.
For contrast, my private Spain medical insurance (with agrupacio.es), which was atop the free public medical insurance (ie, I had double coverage), covered all medical, dental and vision and cost me about $800 per year and of course was valid throughout the entire country, and all of Europe for that matter. My European medical insurance also covered me in the US for up to 3 months at a time. When I had to have surgery in Europe, my out-of-pocket cash cost was $1,500 with all follow-up included while the same surgery in the USA had a cash cost of $25,000 up to $35,000 with none of the follow-up included.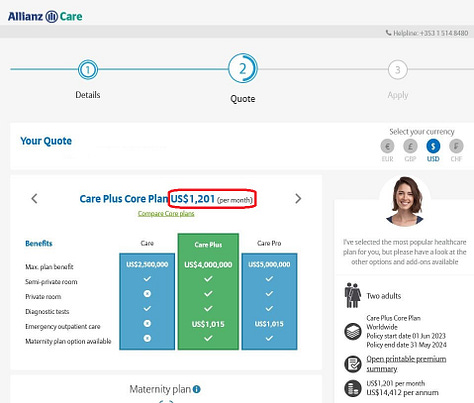 Regular American medical insurance is brutally expensive and yet filled with loopholes so that the insurers pay as little as possible while charging a full salary for minimal actual benefit to the client.
Obviously, medical insurance is big business for big profit and so they can easily afford to buy politicians to write favorable laws and "deregulations" to favor max profit.
"The 1980s divergence in health costs, some readers and experts observed, coincided with a broad push toward deregulation." New York Times June 4, 2018
If you like your medical insurance, think it is a good value, and have coverage throughout the USA + internationally, please tell us about it!